In honour of the opening of our first store in the U.S.A we are proud to be introducing the Beverly Hills Collection. This collection is comprised of three gorgeous arrangements and also features our first use of succulents. Let's go behind the scenes to see what truly makes this collection so special!


The Roses:
We chose these varieties of ClassicRoses by taking inspiration from our most vibrant core mix! Our beloved brightmix. Already popular with existing clients and stores worldwide it perfectly lends itself to the glitz and glamour that Beverly Hills demands. With the roses capturing the essence of LA all they needed was a suitable home to showcase them…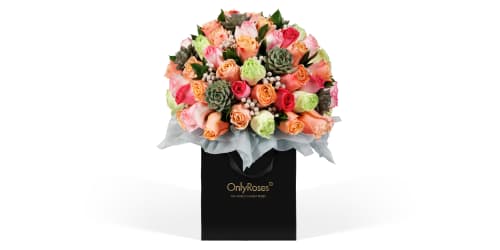 The Vase:
Alongside the Only Bouquet and the Classic Boulevard we're launching a brand new vase with this collection, The Hollywood. We wanted a vase that would not only showcase the beauty of our ClassicRoses but also created a fitting home for our succulents. Hollywood does just this, being an extremely high quality glass vase it creates a perfect framing to an already exquisite display. If you're wondering where to place Hollywood think 'centrepiece' for a luxury dining experience. As well as this new vase we're proud to launch this collection in two of our staple designs - The Only Bouquet, a hand-tied bouquet of Classic Roses presented in signature OnlyRoses packaging with hand selected seasonal foliages. The Classic Rose Boulevard, Classic Rose Boulevard is a stunning mix of Classic Roses presented in a stylish hat box with hand selected seasonal foliage.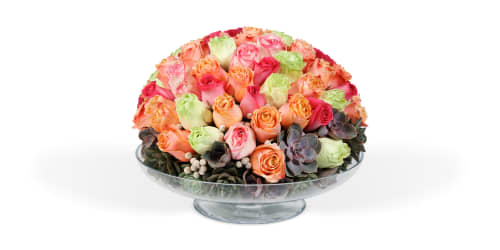 The Succulents:
With the perfect vase and roses in place we looked to succulents as the final piece of the puzzle. Succulents are on trend at the moment, especially in LA. With muted colours, from rock grey to blush pink, their strong aesthetic, nestled amongst our ClassicRoses, truly shines. The harmony between them and luxury roses creates a beautiful visual that more than suits our latest location.
We couldn't be more proud of our Beverly Hills collection. Luxury Roses meeting LA style in perfect harmony that we are proud to call our own. So, treat yourself or a loved one to a luxury they definitely deserve.
We are also honoured to be donating 50% of all US sales of the Beverly Hills Only Bouquet to our partners United Friends of the Children. Read more about our partnership here.