The Classic Rose Silver Cube is a beautiful arrangement of Classic Roses presented in a luxurious silver cube vase. The sleek silver tones of the vase contrast perfectly against the stunning glow of our Classic Roses. The Classic Rose Silver Cube is a gift that is stylish, chic and suited to any home. We recommend placing this arrangement on a low coffee table, it's a perfect flourish to any room and will always catch the eye of your guests.
We've chosen three colours this Valentine's Day that perfectly suit this arrangement, red, white and pink. Choose white for an elegant, subtle look that always demands a second glance. If your looking for something slightly more Valentine's Day then go with our beautiful red roses, they shine twice as brightly against this gorgeous vase. Finally, there's our fantastic pink Classic Roses; pink is a unique choice this time of year that doesn't play to the regular conventions of Valentine's day, so, go pink and go bold.
The truly defining feature of this arrangement will always be our roses; they're called the finest in the world with good reason. You can read about what makes them the perfect luxury roses here, or you can take our word for it (we are the experts after all), and order your Classic Rose Silver Cube now.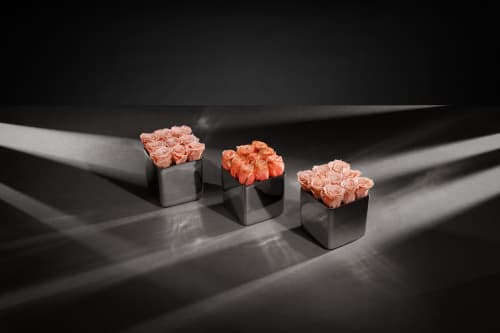 Shop Valentine's Day Roses