A perfect evening! Roses, Rosé wine, and a host of our favourite guests all welcoming OnlyRoses to Beverly Hills, Los Angeles. However, the evening wasn't just about us, this soiree signified the official launch of our Beverly Hills boutique and cemented our partnership with United Friends of the Children. We'd like to thank everyone involved for such an unforgettable evening.
"It was a brilliant event and we would like to thank the United Friends of the Children organization, led by Kara Allen Soldati, for this wonderful partnership, Tracy Paul & Co for the professional and brilliant support, Clos Saint Michel for the wonderful Rose wine, which suited the occasion perfectly, and Villa Blanca for the delicious catering. The evening was filled with wonderful guests, interesting conversations, and a really good vibe." Sabine Schmitt, Co-Founder, OnlyRoses.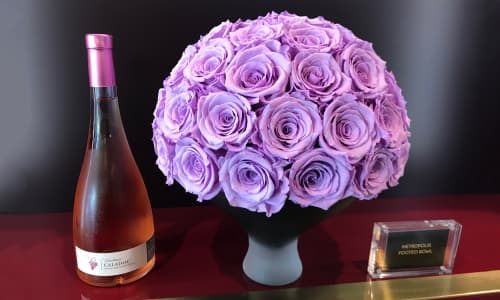 As with all events, this started with preparation! We wanted to ensure our guests would be able to indulge in the full OnlyRoses experience. Our boutiques are always beautifully appointed, and with our flagship store this would be no exception. Our florists worked tirelessly to ensure the World's Finest Roses would shine, as they always do, throughout the event and the pictures speak for themselves. It simply wouldn't be OnlyRoses if it wasn't perfection.
"We showcased our 140cm stems, which take 365 days to grow, and they blew people away. The store looked absolutely stunning. We quote one guest's words when they entered through the door saying 'My heart stopped when I entered the store".
Our esteemed guests were welcomed with wine from the exceptional vintners of Clos Saint Michel, and scintillating canapes provided by Villa Blanca. They were also welcomed by our hosts, United Friends of the Children's CEO Kara Allen Soldati, and our Founders Anian and Sabine Schmitt. Being 'hands off' has never been our Founders' style and they were thrilled to meet and revel with everyone. We'd like to say a special thank you to all our guests, luminaries from publishing houses such as VOGUE, the LA Times and Glamour Magazine, captains of industry from JP Morgan and CAA, and lots of brilliant people from across LA's creative spectrum. We can't list all of you individually here but we would like to say thank you again for coming, it was such a pleasure to host all of you.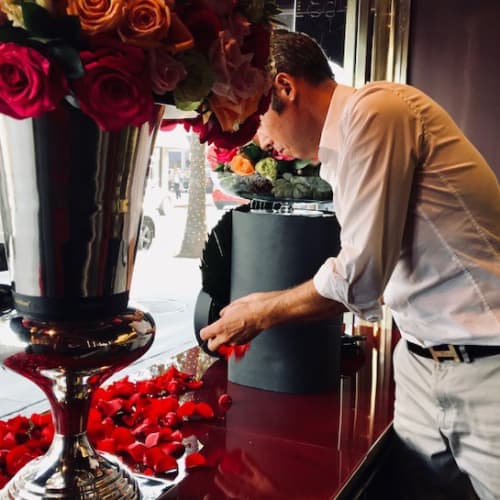 We'd like to say another thank you to Kara Allen Soldati and her team at United Friends of the Children. United Friends of the Children are a charity organisation that is extremely close to our heart. Their work inspires us all and our launch event honoured our partnership with them. As we've mentioned, we are donating 50% of every US sale of the Beverly Hills Only Bouquet (Available here in 4 different sizes) to their organisation's fantastic cause.
"United Friends of the Children empowers current and former foster youth on their journey to self-sufficiency through service-enriched education and housing programs, advocacy, and consistent relationships with a community of people who care." (Learn More)
Finally, we'd like to say one last thank you to all those who helped make the evening so special and to all those that attended. We know we'll see you all again soon and for OnlyRoses Beverly Hills, well… This is just the beginning.