The latest addition to our Infinite Luxury Collection is a re-imagining of the sophisticated Lady Jane, from our Classic Luxury Collection.
Lady Jane has long been part of our Classic Luxury Collection and we are beyond thrilled to finally deliver The Infinite Rose Lady Jane. It's opulence, elegance, and perfectly suited to your home, but where? The Infinite Rose Lady Jane truly shines as a statement, the ornate design of the vase is eye catching, yet never overbearing, and in the right colour to match your home it will be what all your guests are talking about. Lady Jane should always be placed where it can, and will, be seen. Perfect on a console table, adorning a room, or as a final touch to the entrance hall that's so desperately needed revitalising. Think bold, think beautiful, think Infinite Rose Lady Jane.
The Infinite Rose Lady Jane is available in all our Infinite Rose colours but what's on trend right now? We'd never begrudge you for choosing any colour at all but right now we have to recommend…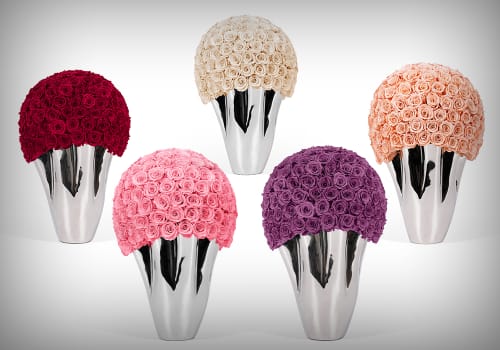 Champagne
Champagne is a gorgeous, creamy white that suits Lady Jane perfectly. It's a subtle tone that always says understated luxury. Embrace luxury and indulge in champagne. You definitely won't regret it.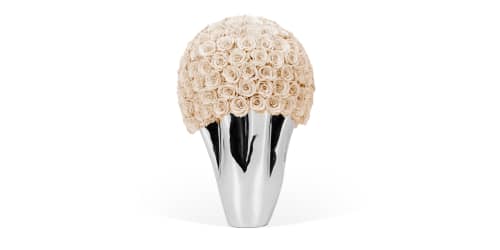 Peach
Peach is perfect for the season. Warming tones that will breath life into any home. They're rich, full bodied, unmistakably autumnal and best of all? They look stunning in Lady Jane.
Cherry Blossom
Cherry Blossom Infinite Roses are beautiful. They're bold, eye catching and we can't get enough of them. They especially shine in large arrangements en masse, and obviously, The Infinite Rose Lady Jane is no exception to this rule. Cherry Blossom is pink perfection, as part of the Infinite Rose Lady Jane, and as we always say, if you've got it... Flaunt it!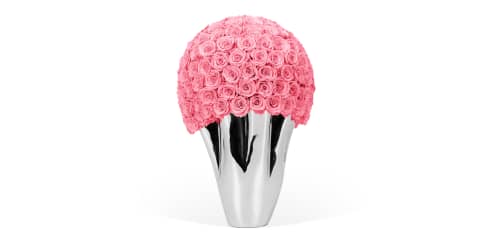 Crimson
The Infinite Rose Lady Jane has a certain romantic air about it that we just can't ignore. The beautiful story behind the vase is a romantic gesture that is very dear to our hearts. So, what's more romantic than the quintessential red rose? Especially when coupled with the Infinite Rose twist of lasting up to a year, without watering. Be bold, be beautiful, and say it all with the Crimson Infinite Rose Lady Jane.
Did your favourite Infinite Rose colour make the list? If not please do not worry. The Infinite Rose Lady Jane is available in all of of our Infinite Rose colours and, what's more, it's available today. Place an order online now, or visit your nearest store today so that you can have your own introduction to… The Infinite Rose Lady Jane.