The origin of the luxury rose
OnlyRoses prides itself on offering The World's Finest Roses, and we say that because it's true. Our roses are unparalleled in their quality and like no roses you have ever seen before. So, what is it that makes our roses 'luxury roses'?
Let's start at the very beginning, with their origin. All of our luxury roses start their life in beautiful Ecuador, where they are grown under the highest social, labour and environmental standards. Our roses are never grown in greenhouses, but only in the natural climate, in Ecuador. Ecuador is right on the equator, allowing for a consistent climate and temperature all year round. Our farms are located in the valleys around volcanoes, and the roses are grown in volcanic soil, which is incredibly rich in minerals. Another important factor is the high altitude - our roses are grown at approximately 12.000 ft. above sea level, where the intensity of the sun light is very high. All of these factors combined not only foster healthy growth but result in the World's finest luxury roses! Our roses grow incredibly tall (up to 5ft!), have exceedingly strong stems, huge blooms and are absolutely bursting with the most vibrant colours! Yet, it's not all down to location. It's also down to the care that our farmers put into each and every single rose, and our team's excellent quality control. Luxury is always in the detail and we don't ever neglect a detail, each rose is checked, double checked, and looked after from farm to store.
Luxury Varieties
Our roses aren't just luxury roses because of how they're farmed. It's the varieties we choose and our endless emphasis on quality. We carry more than 250 different varieties of fresh roses (we call them our Classic Roses). Not every rose variety is always of the same quality though. It depends on which farm these varieties are sourced from. For example: One farm may have the perfect formula and conditions for growing a particular variety, allowing for perfect strong stems, beautiful sized buds, vivid colours and bulbs that open magnificently. Whereas another farm, attempting to grow the same variety, may not be able to match that same quality and they key is knowing the difference. In Ecuador, there are many rose farms, cultivating beautiful roses, in many different rose varieties and we make sure we choose the best farm for the best varieties.We choose varieties that have qualities and characteristics unlike any other roses because luxury roses aren't just pretty, they're astounding. They're not simply glanced at but gazed upon. A luxury rose is more than a gift, it's a message, a memory, a declaration, they're everything that roses have always represented and so much more. Need further convincing? Simply step into one of our boutiques and see for yourself, we're so proud of our luxury roses and they take centre stage at each of our store locations.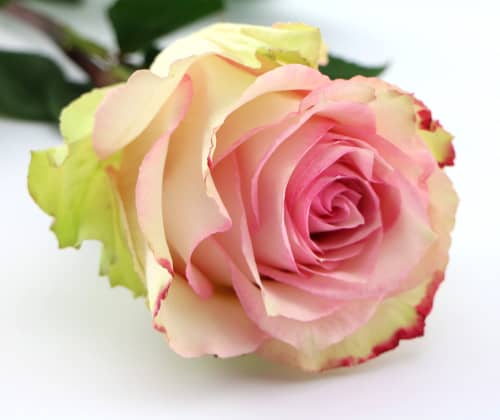 Luxury Infinite Roses
Let's not forget our Infinite Roses. Infinite Roses are real roses, that have been preserved to last several months, up to a year, without water. They maintain their beauty - without any water or upkeep - so all you have to do is enjoy them. Again, we only preserve the finest luxury roses and our Infinite Roses are all real roses. It's sometimes hard to believe but every Infinite Rose is a real that has been preserved… How do we do it? That would be telling.
Finally, it's our florists that make our roses truly luxurious. Each of our esteemed florists is highly trained and skilled with their craft. Offering the World's finest roses is one thing, but presenting them as perfectly as they deserve to be is another. This comes down to our design team and dedicated florists. Each rose is given the luxury treatment and handled with caring and skilled hands, from their arrival at the store to their arrival at your door.