We've got lots of friends living in beautiful cities around the world, and we're always looking for good recommendations on where to stay, shop and eat. These tips were put together by Joanna (a close childhood friend of OnlyRoses co-founder Sabine) for our latest city spotlight: Rio, where we hope to open a store one day.
WHERE TO STAY -
Hotel Fasano Rio de Janeiro
Nestled in the heart of Ipanema, this hotel has it all (and more): enviable location, attentive service without being too much, and understated style (it's oozing with cool).
Copacabana Palace
As Barry Manilow crooned, "music and passion were always the fashion." They still are. And so is 'The Copa' – which has earned its legendary reputation as the place to be (and party) in Rio.
WHERE TO EAT -
Antiquarius
Visit Antiquarius for the best of traditional Portugese food, and huge plates (perfect for sharing). Tip: Wear your 'Sunday best' (this is a place to see and be seen).
Rua Aristides Espinola 19
Satyricon
The top seafood restaurant in Rio (by far, we're told). Order the Trio Mare to start. Then indulge in any of the fresh and meticulously prepared Mediterranean-Italian dishes on the menu.
Rua Barão da Torre 192
Aprazível
Nestled in the hills of Santa Teresa, Aprazível offers a fabulous view of Rio, yummy dishes and drinks, and a charming and romantic atmosphere.
Rua Aprazível 62

Esplanada Grill
The very best steakhouse in Rio, serving up the most loved cuts of beef, and a feijoada to die for every Saturday.
Rua Barão Da Torre 600
Bar do Bira - Guaratiba
How would you like to escape to a magical place where time seems to stop and the food is indescribable? Um yes. Order the Pasteis de Siri e de Camarão and pretty much anything else (you can't go wrong). The catch? It takes 40-60 minutes to get there from Rio.
Estrada da Vendinha 68a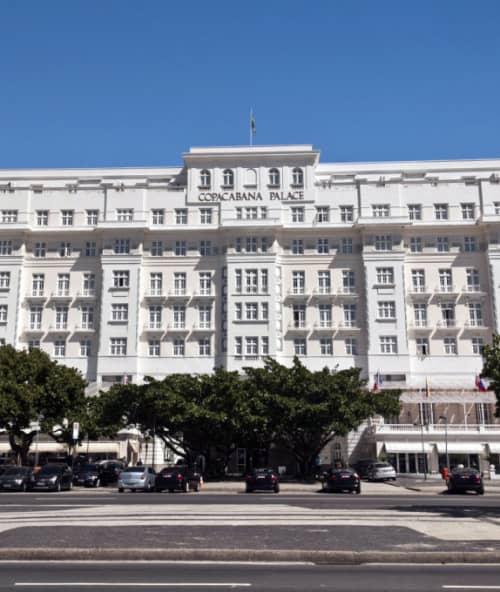 WHERE TO SHOP -
Vix
Head to this much-loved boutique for stylish everyday beach wear. Lots of lovely separates (you can't go wrong, really).
Rio Design Leblon
Av. Ataulfo de Paiva, 270 - 106 - Leblon
Adriana Degreas
The Adriana Degreas brand defines luxury swimwear, so if you're looking to make a statement, then look no further.
Village mall
Lj 246 Village Mall - Av. das Américas, 3900 - Barra da Tijuca
Lenny Niemeyer
Stunning haute couture swimwear from 'Brazil's bikini queen', Lenny Niemeyer.
Rua Garcia d'Avila, 149 - Loja A Ipanema
NK Store
The very best in Brazilian fashion, along with a carefully curated selection of brands including Valentino, Alaia and Stella.
Rua Garcia d'Avila, 56 - Ipanema, Rio de Janeiro
Brand
A must-visit boutique where you'll discover fun Brazilian style and a brand with personality.
Av. Ataulfo de Paiva, 270 · (21) 2714-3643
(Note: you'll also find this brand in the best malls)
Schutz
"A women with good shoes is never ugly. They are the last touch of elegance." Coco Chanel said it, so that's reason enough to visit Shutz.
Rua Garcia d'Avila, 130 · (21) 2512-4141
Farm
Tropical' fashion – lots of colour, flowers and textures (and there's a collection for your mini-me, too, with its children's brand, Fabula).
Loja de moda feminina · Rio Design Leblon
Av. Ataulfo de Paiva, 270 · (21) 2540-0082