We're proud to announce the opening of our first store in Beirut, Lebanon. Located at Beirut Souks and showcasing our full range of the World's Finest Roses, this is a store that indeed matches the beauty and elegance that OnlyRoses stands for.
Inspired by gorgeous Italian design, our Beirut store is just as innovative and stunning as each store that has proceeded it. Beautiful Blue and gold platforms showcase our Classic Roses (The World's Finest fresh Ecuadorian Roses) throughout the centre of the store, it's a contemporary look that radiates style. Blue and gold niches adorn the walls showcasing our beautiful Infinite Rose arrangements (Infinite Roses are real roses, that last up to a year, without any water.) Here the design shines, giving every arrangement its very own spotlight to shine, as they should. All of these combined elements create a standout look that is both stylish and unforgettable.
So, why not stop by and discover the magic for yourself? Or, if you can't make it yourself, you can place an order for OnlyRoses Beirut here.
If you are looking to visit one of our luxury boutiques a full list of our operating locations can be found here.
After all, that perfect gift may be just a rose away.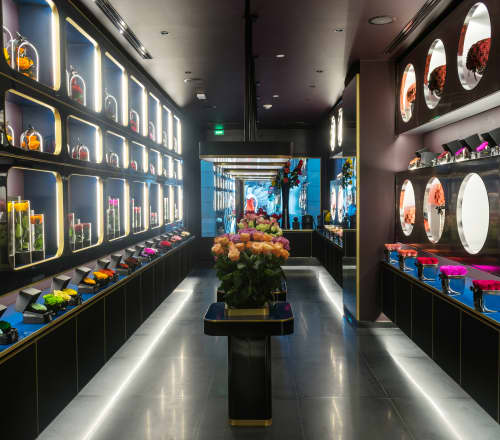 Shop The World's Finest Roses