Drawing inspiration from Italian design, these striking new spaces capture the essence of the OnlyRoses brand and create a luxury retail experience like no other.
Doha Festival City
Located near the entrance of this iconic shopping destination, OnlyRoses Doha Festival City has been designed to attract attention.
The first design element – the store's L shape – is defined by shiny blue lacquered niches and brass detailing. The second element features two bands of circular niches, finished with satin and lined steel, beginning at the entrance door and leading into the room. The niches of roses surrounding the centre table display arrangements that showcase vivid colours and stunning designs.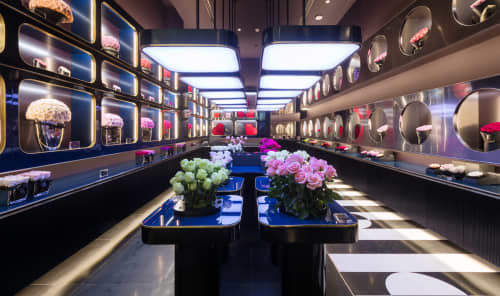 Mall of Qatar
For a location of such grandeur, the goal was to create a distinct aesthetic – one that would raise the bar in luxury retail. The visibility, selection, and spacing of products have been carefully considered, as vibrant floral arrangements are displayed and adorned with subtle lighting and a brass framework. A bordeaux and black colour palette creates a deliberate contrast to the bright hues of the roses which, of course, take centre stage.

Shop the World's Finest Roses