As you may know, the UK has been all about the Chelsea Flower show this week. London has been in total bloom with beautiful floral displays each, and everywhere you look. As the rose experts, we've followed the show and been inspired! What's inspired us? Lilac. This season is all about Lilac. Floral displays inspired by plants like Delphinium, in an array of lilac shades to deep purple, have stolen the show. To celebrate this we're proud to present our Lilac Luxuries, below are some highlights, but you can explore the full collection here.
The Infinite Rose is our signature product, and it's never looked more beautiful than in our selection of Lilac tones. Available in Violet, Lavender and Blueberry you'll find the colour that's perfect for you or your recipient. The Infinite Rose shines in lavender; the softer tone is perfectly balanced in its black crystal vase creating a vision that is subtle yet striking.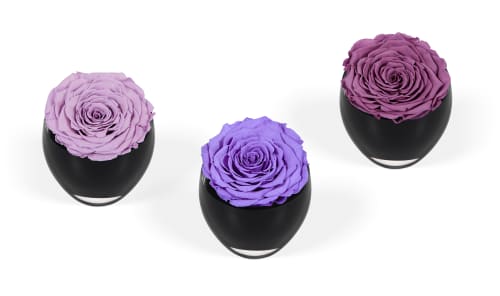 Lilac luxury was made for our luxury collection and the Infinite Rose Fleurs Du Vin is a testament to this. It's stunning silver vase, with leather handle, matches the beautiful lilac hue of these roses so naturally, we can't get enough! Make an entrance with Fleurs Du Vin this summer, and you'll be on trend all season.

Lilac luxury doesn't just apply to our long-lasting roses; our fresh roses are also in the spotlight. The Lilac Luxuries Only Bouquet represents this collection perfectly, it's stylish, it's elegant, and most importantly it's lavish in lilac. Comprised of three Classic Rose varieties, Deep Purple, High and Candy and Nautica this is an arrangement that celebrates everything Lilac and looks stunning in doing so.

The Infinite Rose Waldorf
Infinite Rose Waldorf is all style. With a design inspired by London's esteemed fashion houses, it's no wonder this arrangement looks perfect in our selection of Lilac tones. Think violet for a vivid, deep shade of purple roses that perfectly contrasts against the deep black of the Waldorf's presentation box. Or, go for a more subtle option with Blueberry, either way, The Infinite Rose Waldorf will escort you through the season in style.