Infinite Rose Plaza is, of course, one of our top picks for Valentine's Day. Think Vibrant Infinite Roses arranged inside a beautiful square hat-style box; this allows the bright colours of our Infinite Roses, offset against the deep black of the presentation box, to truly shine and, what better time to look so beautiful than Valentine's Day. They not only look beautiful but our plaza presentation boxes are made to travel. Complete with resealable lid your recipient will find themselves opening more than their gift on Valentine's Day, they'll be revealing something perfect.
Our InfiniteRoses are real roses, which last up to a year, without any water. They're so beautiful that they simply cannot be told apart from their fresh-cut counterparts. You can read more about what makes our roses so unique here.
Finally, for the occasion, the Infinite Rose Plaza will be available in red, white, pink and two sizes. So, whether your thinking of making the ultimate gesture or more of a subtle hint, the Infinite Rose Plaza is the gift for you.
Don't forget, Infinite Rose Plaza is also available for Nationwide delivery, so you can enjoy perfection wherever you may be.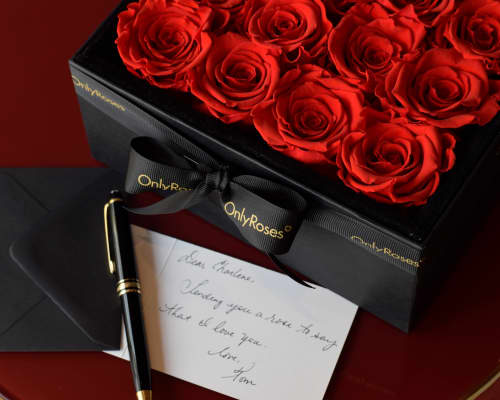 Shop Valentine's Day Roses