Stylish and elegant, the two best words to describe our Classic Rose Plaza. The World's Finest roses arranged beautifully in a luxury black presentation box. Our Classic Roses always look their best in these beautiful boxes; their vivid colours shine against the black tones of the boxes, so you're left with no doubts as to why they're called the best in the world. If you're still not convinced, you can read exactly why here.
Classic Rose Plaza is available in three colours and two sizes for Valentine's Day. Red, a perfect match to the black of the boxes and always romantic. White, elegant, subtle, for those who want to say it all, without saying too much. And pink, for those looking to do something a little different this year, pink is exciting and vibrant, we say go for it!
Finally, the Classic Rose Plaza is also available in two sizes, medium and large. Both sizes are just as beautiful; it's all down to what suits you. Sometimes it's better to be subtle, sometimes to be bold, either way, with OnlyRoses it will always be stylish.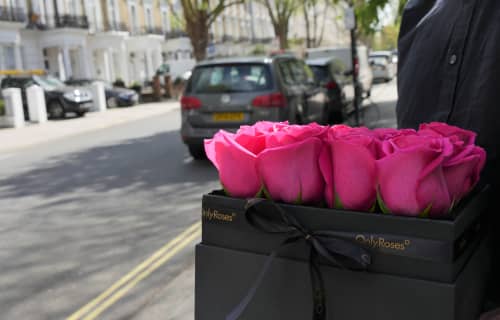 Shop valentine's Day Roses